DroidGator is reporting that one of their readers has sent in a photo of the next-generation iPhone's logic board. The photo shows the board, complete with A7 (what is believed to be Apple's next-generation mobile processor) prominently stamped on the chip.
DroidGator, claim's that the individual who sent the image has an IP address coming from Cupertino, California where Apple is headquartered. Due to the dimensions- very similar in looks to the iPhone 5 board, this suggests that the next-generation iPhone will have similar dimensions to the iPhone 5. The report claims that the A7 will have quad-cores running at 1.2GHz. Other device specifications include Power SGX554MP4 GPU (similar to the fourth-generation iPad), iOS 7, and 2GB of LPDDR-800 RAM. Siri will also reportedly receive new improvements and enhancements.
Though there is a lot of squishy facts, and caveats for credibility, but to my mind, these specs do not sound off track. I would expect the same form-factor as the iPhone 5, with significant internal updates- the "A7", complete with quad cores and 2GB of RAM sounds like a nice boost that isn't too unrealistic of a goal for a fall release.
Image courtesy of DroidGator. Thanks to reader Michael for the tip!
[UPDATE]
It appears that the photo rumored to be of an iPhone 5S logic board was fabricated.  Our friends over at MacRumors debunked the specifics this afternoon.
It's a fake. The numbers shown on that A7 chip are inconsistent and in some cases nonsensical. For example, there is a "3232" along the right side of the chip. This number should be a code noting the two-digit year and two-digit week of manufacture. Since we're not currently in the year 2032, this code is clearly fake.

In a similar vein, there is another faint manufacture date code along the bottom side of the chip for a different component within the chip. This one they failed to Photoshop, so it shows a "1227" code indicating that it was made in mid-2012 as was the case for the A6 in some early iPhone 5 devices.
The original image has since been replaced with a new watermark obscuring the "1227" date code.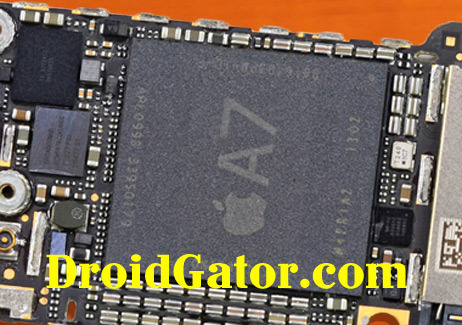 Continue reading:
TAGS: 2GB of RAM, a7, iPhone 5S, next-generation iPhone